| | | |
| --- | --- | --- |
| Kent Wild About Gardens Awards 2018 | | |
Sunday, 28 October 2018 20:14
Kent Field Club was fortunate enough to be invited to the awards ceremony for Kent Wildlife Trust's Wild About Gardens competition. In a packed auditorium, the audience heard about the importance of gardens for the conservation of so much of our biodiversity in modern landscapes and were introduced to this year's winners. Paul Tinsley-Marshall from KWT communicated the value of biological recording in these habitats and encouraged everybody to submit data to records centres, recording schemes and via iRecord.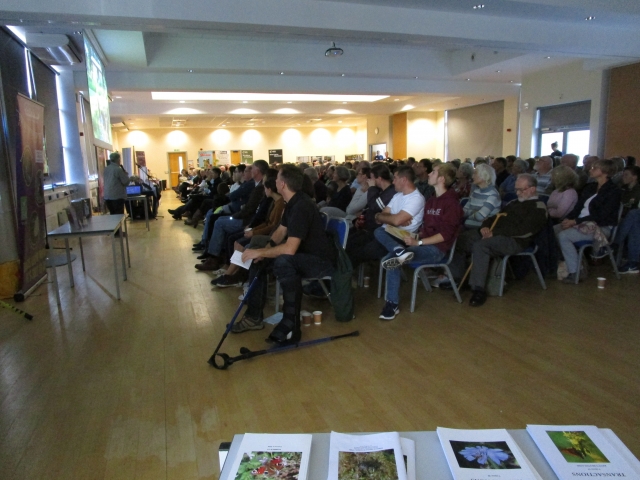 | | | |
| --- | --- | --- |
| Kent Wildlife Conference 2018 13th October | | |
Sunday, 28 October 2018 17:02
More than 80 attendees gathered at the University of Kent campus at Canterbury for this year's Conference, held jointly by Kent Field Club and Kent and Medway Biological Records Centre. The subjects of the talks included the value of biodiversity in archaeology, new conservation projects, as well as aspects of the biology and surveying of insects, bats, birds and fish. A great deal of networking was also done in the breaks and at lunch. Our thanks go to Gary Robinson of UKC for arranging the venue and the facilities on the day.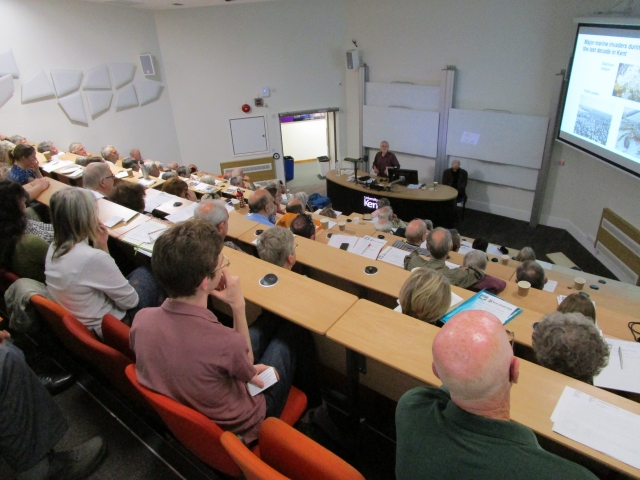 Text and Photo supplied by Simon Springate.
| | | |
| --- | --- | --- |
| Field Meeting at Great Bells RSPB Reserve, Sheppey | | |
Sunday, 09 September 2018 17:02
A group of 18 Club members and others met up at Great Bells Farm to search for rare bees and other fauna and flora with @nikkigammans and @Buzzing Coast from Bumblebee Conservation Trust. Despite the wind and most flowers having finished flowering, it was sunny and we still managed to find three rare carder bumblebees (Shrill, Brown-Banded and Moss), the sea aster mining bee, Colletes halophilus and its nest parasite Epeolus variegatus. Lunch was eaten while watching a large nesting aggregation of the mining bee on the sea wall!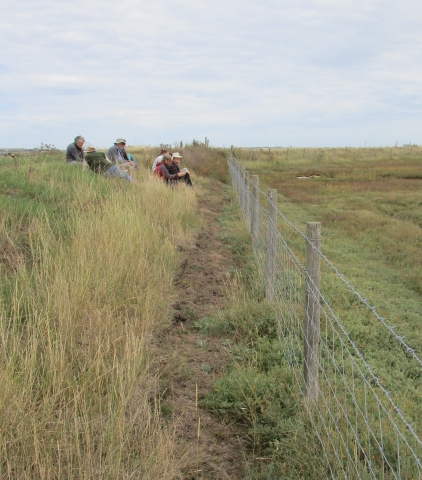 Text and photo supplied by Simon Springate.
| | | |
| --- | --- | --- |
| Alex Farm Pastures, Shadoxhurst | | |
Saturday, 15 September 2018 17:59
A small group of Club members met up on a bright day to explore this private site of (usually) neutral grassland and SSSI in the company of some disinterested cows. Frogs and toads of various sizes were everywhere. High densities of flies and bees were being harrassed by hornets and there was a profusion of dragonflies, grasshoppers and crickets.
Text by Simon Springate. Photo supplied by Sarah Arnold.
| | | |
| --- | --- | --- |
| KFC field meeting at Bingley Island, Canterbury | | |
Sunday, 05 August 2018 18:12
Field Club members returned to Bingley Island in Westgate Parks once again on 5th August. Conditions were a little dry for adding significantly to the list of beetle species for the site but other insects from various groups were present and an eel was spotted in the stream!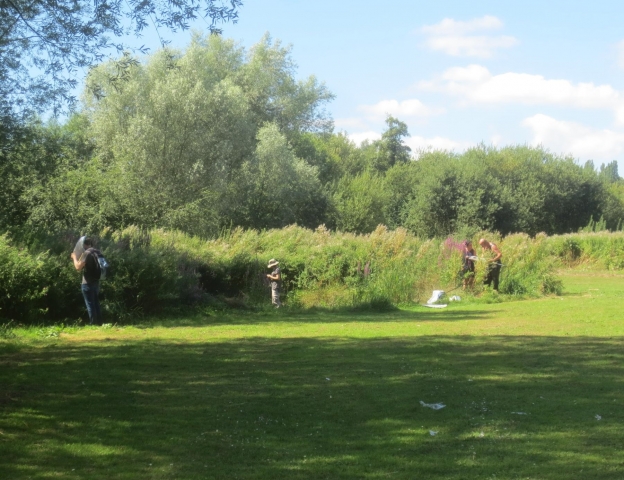 Text by Simon Springate. Photo supplied by Sarah Arnold.
| | | |
| --- | --- | --- |
| Field meeting at Grosvenor and Hilbert Park, Tunbridge Wells | | |
Sunday, 05 August 2018 18:00
A small group of Field Club members braved the summer heat to visit this diverse area of urban parkland on the 14th July. While there was much to look at in the grassland areas, with many species of bee and grasshopper, it was the wet woodlands that held the greatest rewards; Wood Horsetail, an uncommon plant in the South, and the tiny ladybird Clitostethus arcuatus.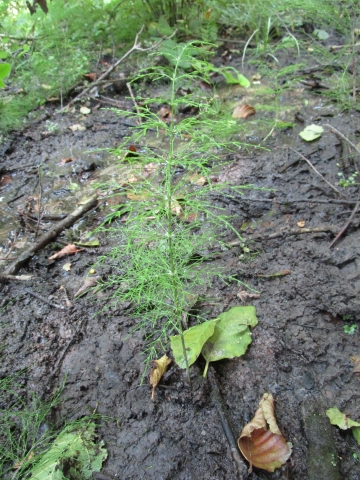 Text and photo supplied by Simon Springate.
| | | |
| --- | --- | --- |
| KFC visit to Upper Mystole Park Farm | | |
Sunday, 05 August 2018 17:24
Field Club members visited this privately owned reserve on 8th July to help provide baseline data as management begins. The site is mostly abandoned apple orchard, with old fruit trees creating dense scrub that is ideal for nesting birds such as turtledoves and nightingales. The site's proximity to Denge means there are woodland plants to be found, but also a large meadow with numerous butterflies and even a small blueberry patch! A particular highlight was the presence of the remarkable Wasp Spider.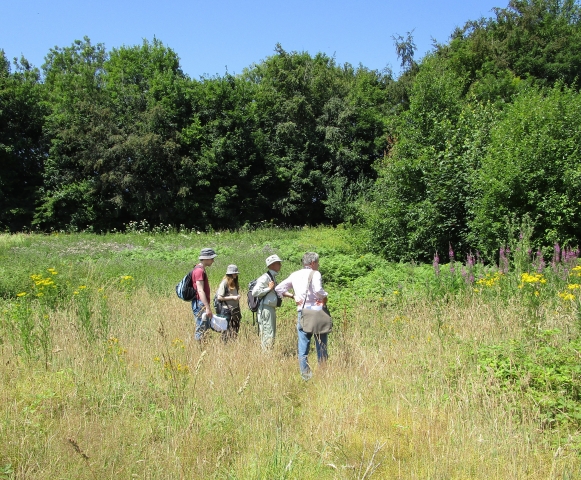 Text by Sarah Arnold. Photo supplied by Simon Springate.
| | | |
| --- | --- | --- |
| KFC meeting at Kingsborough Wood, Sheppey | | |
Sunday, 05 August 2018 17:12
A small group came out for this site in Sheppey on 24th June. It is a planted woodland and amenity land adjacent to a housing estate. The large pond was nearly dry due to the heatwave, but provided an interesting location to observe courtship behaviour of some long-legged flies. Beyond the trees, the site changes into scrubland and some patches of meadow, in which we spotted a few orchids, various bumblebee species and numerous Cinnabar moths!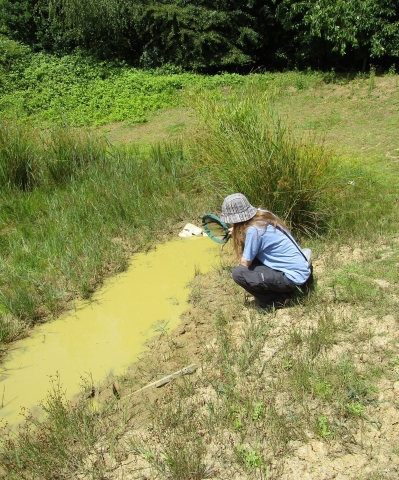 Text by Sarah Arnold. Photo supplied by Simon Springate.
| | | |
| --- | --- | --- |
| Field meeting at Monkton Nature Reserve | | |
Sunday, 05 August 2018 17:10
On 10th June, a dozen or so members made the trip to this charming nature reserve in Thanet. It is a SSSI for the geology as well as being home to an astonishing diversity of orchids and various nesting bird species. The diversity of habitat types was interesting, with woodland, scrubland and chalk.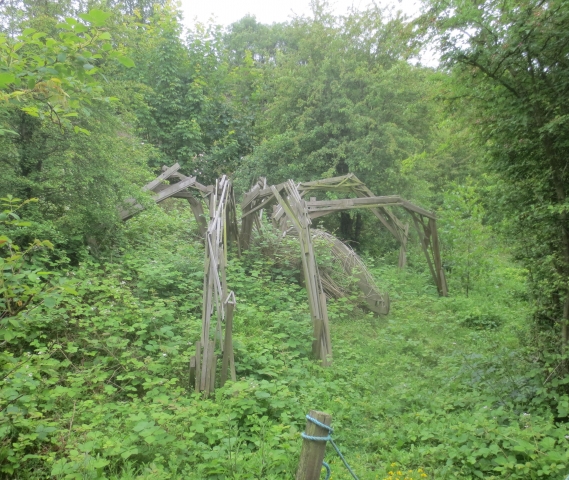 Text and photo supplied by Sarah Arnold.
| | | |
| --- | --- | --- |
| Field visit to Queendown Warren | | |
Sunday, 05 August 2018 16:51
This site is always popular with KFC members, due to its beautiful chalk downland and the likelihood of spotting something unusual. The trip on 26th May was no exception, with orchids to be admired and a couple of rare bee species. The Warren is currently undergoing various management trials, including a large exclosure that keeps rabbits from grazing an area of the downland. This is permitting more diverse herbs to grow and reducing the dominance of thistle. As the years pass it is likely that the quality of the plant life in this patch will improve further.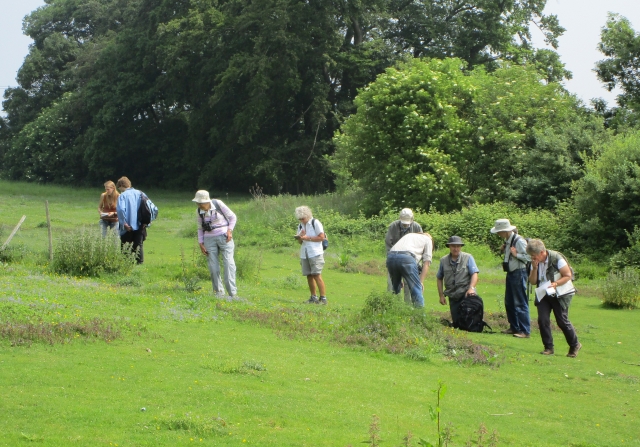 Text by Sarah Arnold. Photo supplied by Simon Springate.
| | | |
| --- | --- | --- |
| KFC visit to Berry Court Wood, Chattenden | | |
Sunday, 05 August 2018 16:35
Over a dozen KFC members turned up to visit Berry Court Wood on the 12th May. This is a privately owned site close to the controversial proposed Lodge Hill Development, and therefore likely to be affected by any large-scale housing in the area. It is currently used partly as a conservation site and partly as a field archery range, so the intrepid members occasionally encountered fibreglass targets in the shape of animals!

There was a reasonable range of fairly common insects and plants, and a cuckoo was heard calling in the background. A follow-up visit revealed the site was popular with a couple of White Admiral butterflies.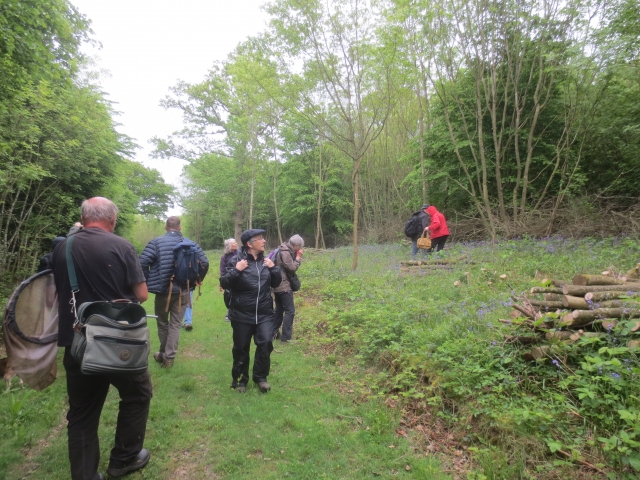 Text and photo supplied by Sarah Arnold.
| | | |
| --- | --- | --- |
| Fungi Report 2017 | | |
Saturday, 14 April 2018 20:41
2017 was an exciting year for fungi in Kent with many scarce and rare species being recorded including micorrhizal agarics, toothed fungi, and chanterelle species. Spring was dry and generally there were few common spring fungi around. However, a large colony of Gyromitra esculenta was found on the Leeds Castle Estate by Jill and John Brookes. We counted 500 fruit bodies on dry sandy soil under a pine plantation together with 'old man of the woods' Strobilomyces stobilurus. The rarely recorded Calocybe fulgens was seen in Pembury Walks Only one morel Morchella vulgare was recorded; RBG Kew is keen to have specimens of morels as there are several species lurking under the name of Morchella aestivalis and there are plans to investigate the DNA of this group. I would be pleased to see any specimens found in 2018. The autumn season stated early after heavy rains in late July and August. In contrast there were many fewer species in late September and October which are often the peak months for autumn agarics. It was an 'oak year' and sites on heavy clay were particularly rich with many scarce or rare mycorrhizal agarics occurring often in quantity. In contrast the chalk areas were generally very poor and species associated with beech were fewer than usual in these areas. Excellent numbers of micorrhizal species including Russula, Lactarius, Cortinarius and boletes were present in the oak and hornbeam woods. The colony size was often outstanding with 20-50 fruit bodies in many cases. Hydnoid and Cantherellus species also had a excellent year and were widespread in many woods. Of special interest was Sarcodon joeides with violet flesh found on a wooded bank at Seal Chart; there are very few British records for this first Kent find. Surprisingly, it was found for the first time in the same week in Cornwall. Grassland species included the usual common waxcaps and Mycena. Hygrocybe ingrate, more usual in the west of British Isles was seen at Old Pembury Churchyard. Common fairy clubs were frequent but no earth tongues (Geoglossum) were recorded at any of their known sites. The generally dry conditions in 2017 meant that dead wood was not particularly productive. However, Laxitextum bicolor, a fairly uncommon species, was seen on dead oak at three sites and Alick Henrici found more Tomentella species to add to the long list of this genus at Putt Wood. The mild wet end to the year was better with common agarics, brackets and jellies fruiting on dead wood. The once rare Plicatoropsis crispa continues its increase across the county. Typhula fistulosa together with Typhula contorta was widespread on fallen wood in beech litter on December 30th. Both occurred on the same small pieces of fallen wood suggesting that they are perhaps just forms of the same species
Thanks to members who provided records including Martin Allison, Bryan Bullen, Trudy Fleming, John and Jill Brookes, and Tony Witts. Special thanks must go to Alick Henrici and Mario Tortelli for help with identification.
Joyce Pitt
| | | |
| --- | --- | --- |
| UK Soldier Beetle Course at NHM | | |
Saturday, 14 April 2018 08:32
On 7th April, a group of enthusiasts (including several Club members) assembled at the Angela Marmont Centre, Natural History Museum to be trained in identifying UK Cantharidae by Steph Skipp, ID Trainer for the Future (and Club member). An informative and fun day was had by all, with access to the museum collections and excellent guidance from Steph. Hopefully this means Kent will have even better records for this group in future as her students turn up on field meetings! Please check out their recording scheme.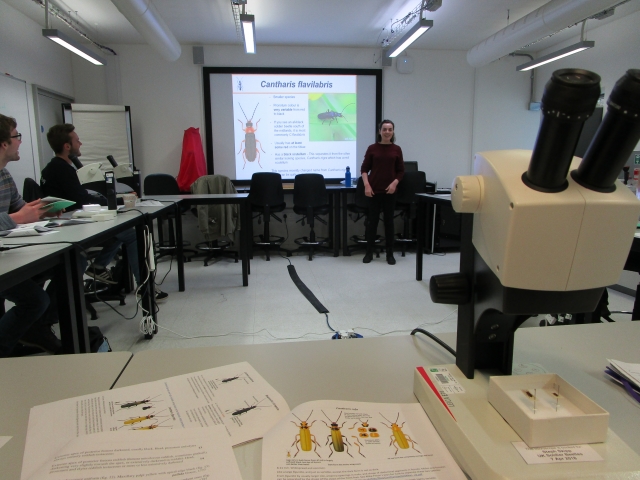 | | | |
| --- | --- | --- |
| Kent Field Club AGM 2018 | | |
Sunday, 18 March 2018 19:12
The Annual General Meeting of the Club was held on 18th March at Kent Wildlife Trust's HQ Tyland Barn. Aterwards, the attendees enjoyed the President's Address from Dick Vane-Wright on 'Mimicry - with some reference to British Insects' and presentations on the Shrill Carder Bee Recovery Project from Rosie Earwaker and the Wild Orchids of Kent by David Johnson.
| | | |
| --- | --- | --- |
| KFC at Kent Wildlife Trust's Wake Up The Season Event | | |
Thursday, 15 March 2018 21:43
On 15th March, Kent Field Club was amongst the many organisations represented at Kent Wildlife Trust's 'Wake Up The Season' event marking the launch of this year's Wild About Gardens Awards scheme (http://www.kentwildlifetrust.org.uk/discover-learn/wild-about-gardens-awards). This occasion enables new and existing volunteers, who provide advice to gardeners and visit entrants, to meet each other, awards sponsors and other relevant organisations and to share knowledge and ideas. The event was very busy and this year's scheme is already shaping up to be one of the biggest yet.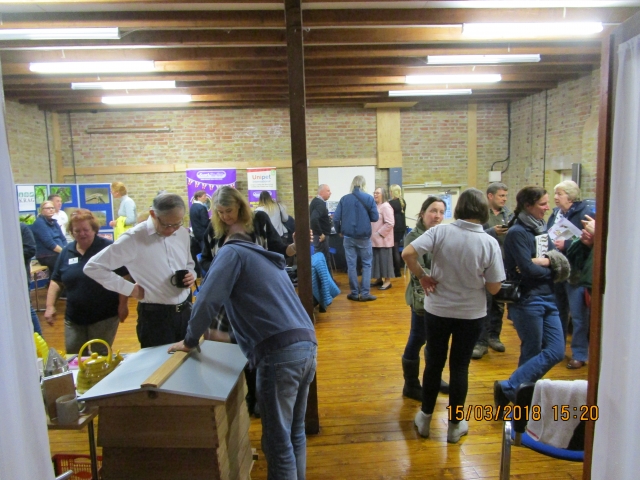 Text and photo supplied by Simon Springate.
| | | |
| --- | --- | --- |
| DMap Training Workshop | | |
Sunday, 26 November 2017 18:34
On the 26th November, Club members assembled at KWT Tyland Barn for a workshop on the use of DMap software for producing distribution maps, led by Ian Tittley. This easy-to-learn software can be used for people's own projects, for producing papers and reports for the Bulletin or Transactions and, it is hoped, for speeding the work of future Kent Atlas production.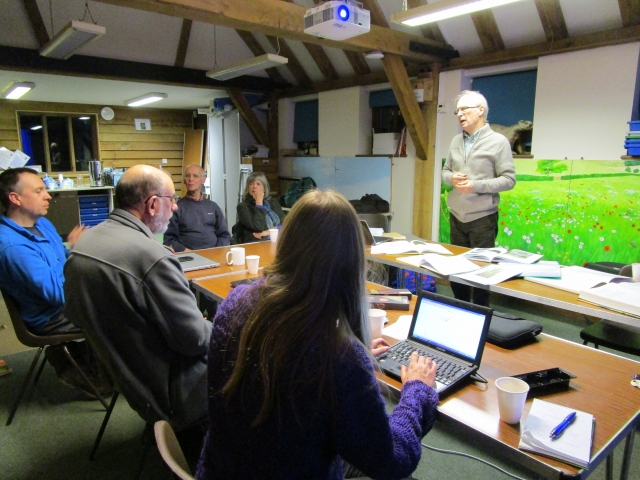 Text and photo supplied by Simon Springate.
| | | |
| --- | --- | --- |
| The Kent Wildlife Conference 2017 | | |
Thursday, 23 November 2017 22:31
On the 28th October, 81 attendees were welcomed by the University of Kent at their Canterbury campus for the annual Kent Wildlife Conference, held jointly by Kent Field Club and the Kent and Medway Biological Records Centre (https://www.kmbrc.org.uk/). The presentations ranged from the level of microbes up to entire landscapes, and from methods of recording biodiversity to habitat management by local communities.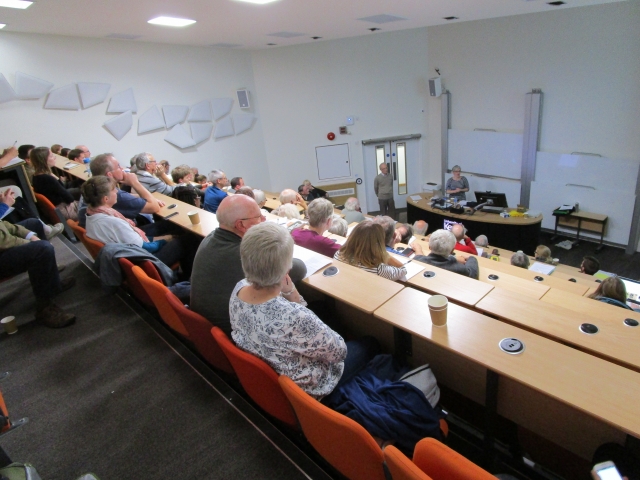 Text and photo supplied by Simon Springate.
| | | |
| --- | --- | --- |
| KFC visit to Longbeech Wood, near Charing | | |
Tuesday, 21 November 2017 22:46
A large group of Club members were led around this Woodland Trust site on the 24th September by Martin Allison. Formerly ancient woodland, much of this was lost to planting for chestnut coppice and mixed conifers so it is designated as a planted ancient woodland site. The site was alive with invertebrates where the sun broke through the canopy along rides or in the recently coppiced areas. The large black and orange ichneumon wasp Heteropelma megarthrum, associated with coniferous woodland, kept just out of reach for a while but was captured for photographs eventually.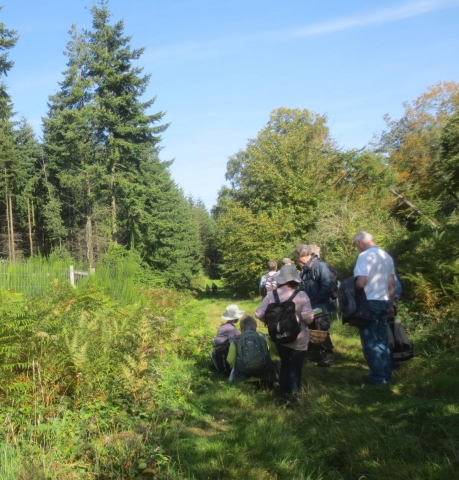 Text supplied by Simon Springate. Photo courtesy of Sarah Arnold.
| | | |
| --- | --- | --- |
| Fungal Foray at Seal Chart and Redhill Wood | | |
Monday, 20 November 2017 20:40
Kent Field Club members met up with Andy Willmore of KWT at Seal on the 2nd September to provide records for the Sevenoaks Greensand Commons Project. The Seal Chart and Redhill Wood is a Site of Special Scientific Interest with open woodland and heath on the formerly grazed acidic parts and denser woodland on the heavier soils. Seventy-seven species of fungi were found on the day, including the first Kent record of Sacrodon joeides.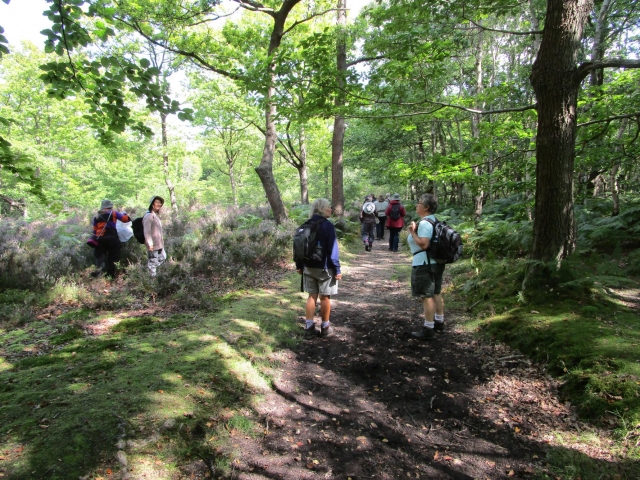 Text and photo supplied by Simon Springate.
| | | |
| --- | --- | --- |
| Higham Marshes Field Meeting | | |
Tuesday, 21 November 2017 22:36
On 29th July, Joyce Pitt led Club members around this area of scrub, rough grassland and wetland. On the insect side, Lepidoptera, Odonata, Syrphidae and Orthoptera were numerous but the Hymenoptera were most impressive; several Shrill Carder and Brown-banded Carder bumblebees, the hairy legged mining bee Dasypoda hirtipes and the Beewolf Philanthus triangulum were all spotted along with 12 other species.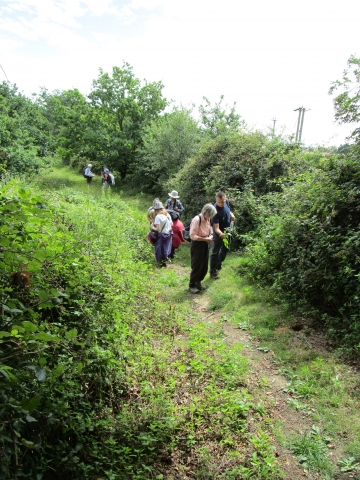 Text and photo supplied by Simon Springate.
| | | |
| --- | --- | --- |
| Field visit to Millennial Woods, Sheppey | | |
Tuesday, 25 July 2017 20:34
A small team of Club members, led by John Badmin, assembled on Sheppey on the 22nd July to see what could be found at two community woodland sites. Thistle Hill woodland, planted in 1999 and covering 13 hectares, has different densities of young tree cover and areas of open grassland while Eastchurch woodland is smaller, consisting of an area of open grassland encircled by trees. Find of the day was the stripy caterpillar of Helcystogramma rufescens, a first record of the species for Sheppey.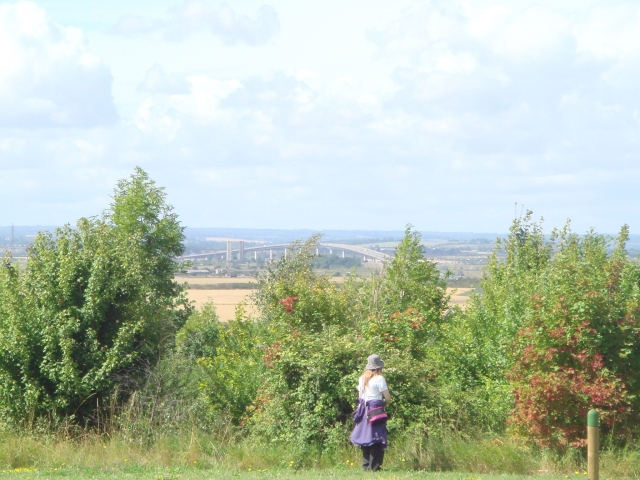 Text by Simon Springate. Photo supplied by John Badmin.
| | | |
| --- | --- | --- |
| Folkestone Warren field meeting | | |
Wednesday, 26 July 2017 20:16
Six Kent Field Club members met on 1st July to record the wildlife of the undercliff at Folkestone Warren. Grazing has been restored to part of the Warren in recent years this area was investigated as well as the slumped cliffs along East Wear Bay. Plants of interest included blunt-flowered rush Juncus subnodulosus, thread-leaved water crowfoot Ranunculus tricophyllus and the stonewort Chara hispida in a wet flush; deadly nightshade Atropa belladonna and the moss Neckera crispa in chalk grassland, and wild madder Rubia peregrina, curved hard-grass Parapholis incurva, rock samphire Crithmum maritimum and golden samphire Inula crithmoides on the cliffs and sea wall. The highlight of the day however was a rose chafer Cetonia aurata seen in the afternoon.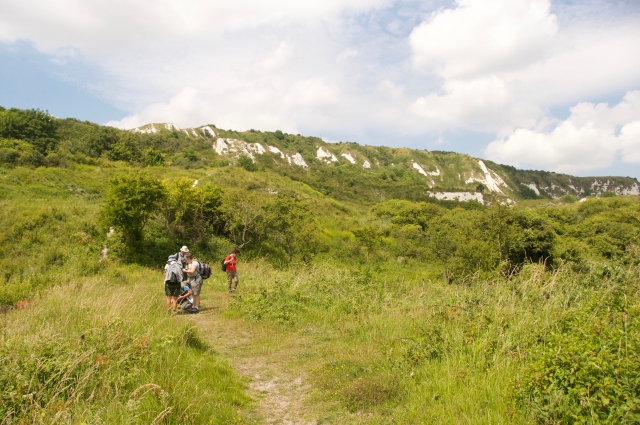 Text and photo courtesy of Alfie Gay.
| | | |
| --- | --- | --- |
| KFC/KBRG joint meeting at Tutt Hill | | |
Wednesday, 26 July 2017 20:21
Fourteen members of the Kent Field Club and Kent Botanical Recording Group met for a joint meeting at Tutt Hill on 16th July to record the arable flora on field margins close to the HS1 railway. The geology here is the Folkestone Formation (Lower Greendsand) and the flora reflected this sandy bedrock. The undoubted highlight was a small population of small-flowered catchfly Silene gallica whilst other plants of interest included wall bedstraw Galium parisiense, prickly sedge Carex muricata and corn spurry Spergula arvensis.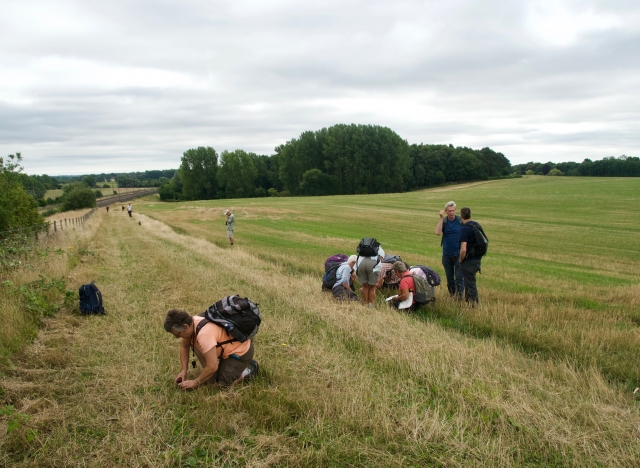 Text and photo courtesy of Alfie Gay.
| | | |
| --- | --- | --- |
| Field meeting at Jenkey Farm, Shadoxhurst | | |
Monday, 17 July 2017 17:20
On 25th June, Club members were led around the meadows at Jenkey Farm by Camilla Blackburn of KWT. This 25ha property, adjacent to various local wildlife sites, has recently entered into a Higher Level Stewardship agreement, so some baseline records were welcome. The meadows were full of grasshoppers and butterflies (including a purple hairstreak) and yellow rattle was so abundant in places that it really rattled with every step.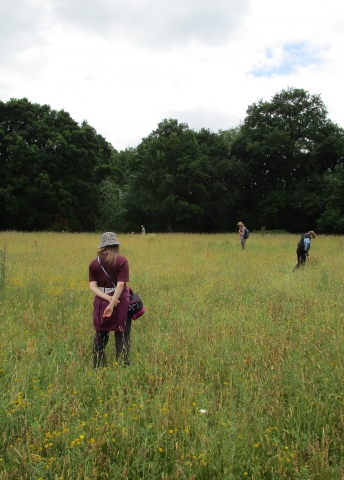 Text and photo supplied by Simon Springate.
| | | |
| --- | --- | --- |
| Key to Kent Sedges by Lliam Rooney | | |
Tuesday, 11 July 2017 14:26
KFC members are invited to test a key to the Kent species of the genus Carex by KBRG and KFC member Lliam Rooney.
More info here: Kent Sedges key
| | | |
| --- | --- | --- |
| Survey visit to Nemo Down | | |
Sunday, 11 June 2017 13:43
Several Club members assisted Paul Tinsley-Marshall and Karen Weeks of Kent Wildlife Trust with baseline plant surveys of Nemo Down, Dover on 10th June. Though KWT have only been managing the site for two years, the removal of scrub and grazing with Konik ponies has already had an observable impact; on the half of the site surveyed, a high diversity of chalk downland indicator species were already present (in addition to a raven, buzzards and marsh tits).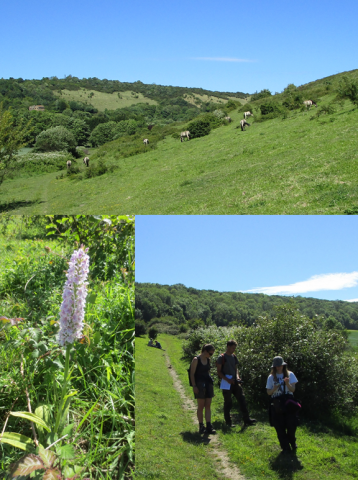 Text and photo supplied by Simon Springate.
| | | |
| --- | --- | --- |
| KFC visit to Hosey Common | | |
Thursday, 01 June 2017 20:05
A small group of Club members met up with Andy Willmore of KWT at Hosey Common, Sevenoaks on the 21st May to provide records for the Seveonoaks Greensand Commons Project. The sun was bright but we didn't see much of it as most of this Site of Special Scientific Interest is ancient/secondary woodland. However, its historic management as wooded heath did show through in places, particularly under the power lines where heather (and insects) were abundant.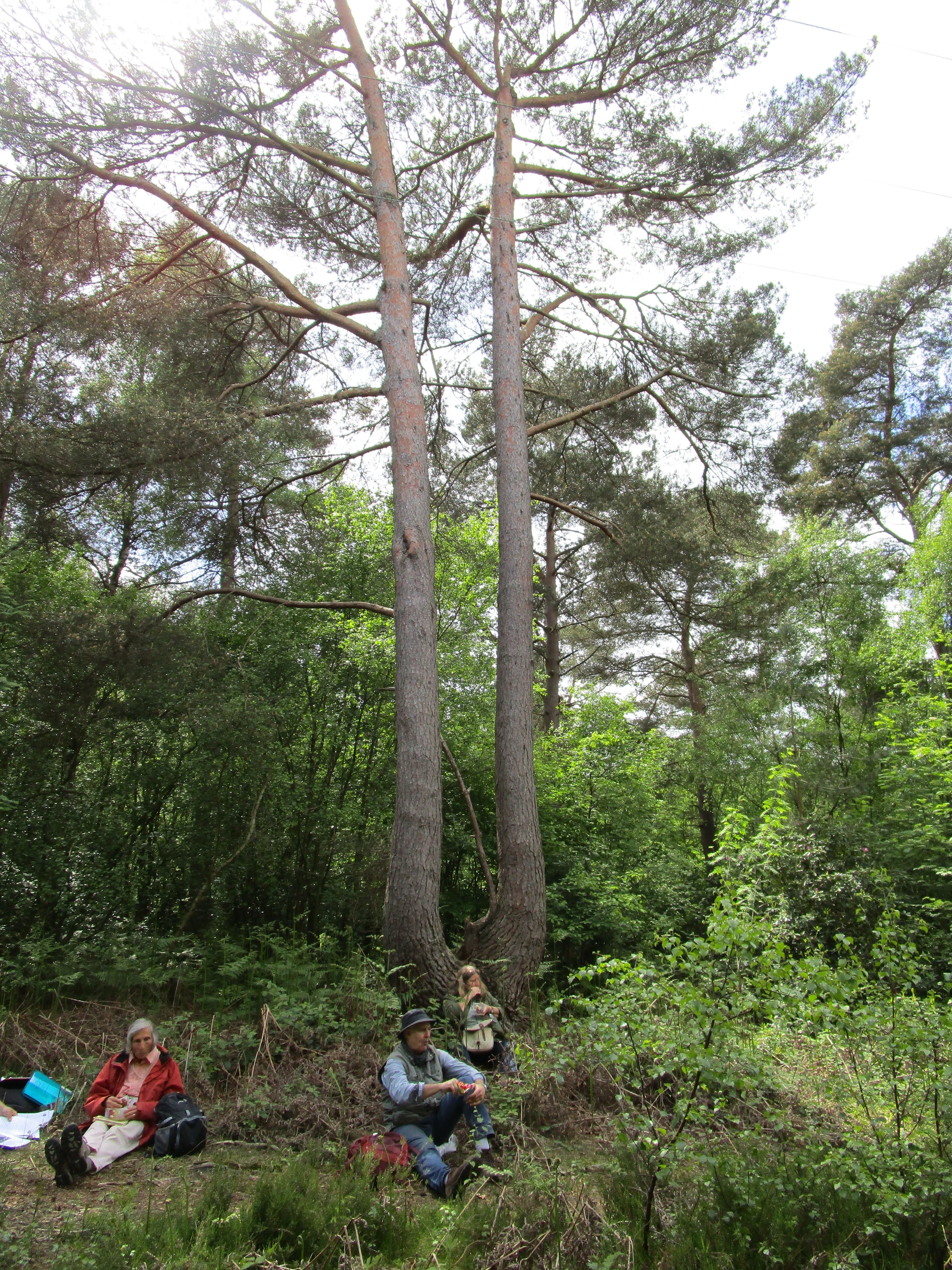 Text and photo courtesy of Simon Springate
| | | |
| --- | --- | --- |
| Kent Wildlife Conference: change of date | | |
Wednesday, 31 May 2017 20:49
Please note that the date of the Kent Wildlife Conference 2017 has been changed from the 21st to the 28th October. This is a change from the published programme.
| | | |
| --- | --- | --- |
| Return to Bingley Island | | |
Wednesday, 31 May 2017 20:05
Several Field Club members turned up at Bingley Island, Canterbury to assist local experts and staff from the Natural History Museum with the next phase of plant and invertebrate surveys as part of the Westgate Parks project (http://www.westgateparks.co.uk/). A number of new plant species were added to the list and several beetle specimens were collected for further identification. Westgate Parks Invertebrate Resource, based at Canterbury Christchurch University, are always looking for volunteers to help with mounting and labelling their beetle samples from previous surveys.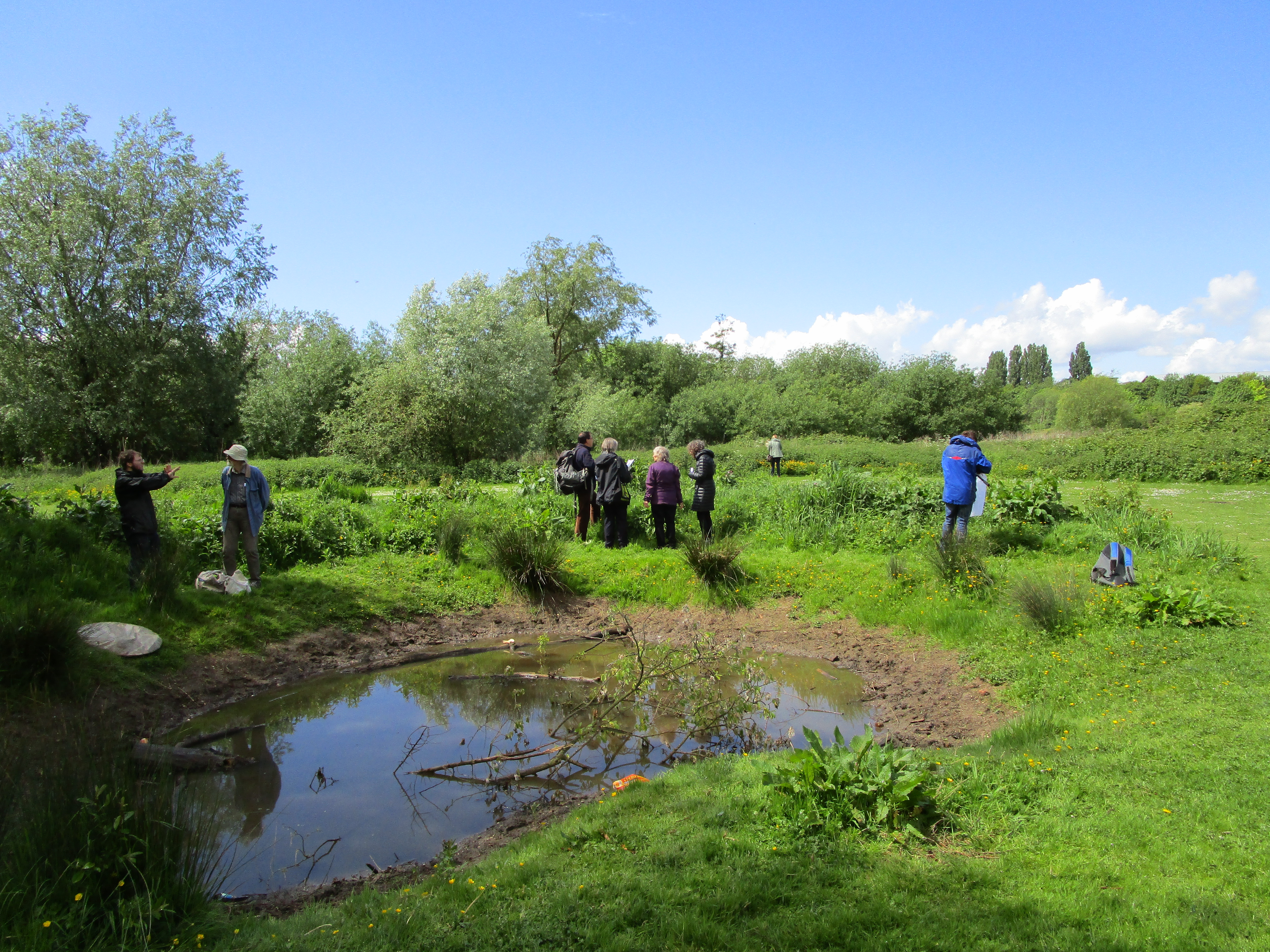 Text and photo courtesy of Simon Springate.
| | | |
| --- | --- | --- |
| Pocock at Maidstone Museum | | |
Thursday, 11 May 2017 08:04
We recently reminded you of the Kent Field Club's display case at the Maidstone Museum. This has now been updated by KFC members Judith Shorter, Malcom and Sally Jennings as part of the Pocock Herbarium Project.
Judith has been busy trying to re-create Robert Pocock's herbarium she says - "When I became involved with Pocock I decided to try and replicate his herbarium. I have managed to collect a number of specimens, a great many when I was out on KFC field trips and with a deal of help from some field club members."
Malcolm has spent many hours finding the text, photographs & prints to tell stories about Pocock's plants.
Sally and Malcom visited the South London Botanical Institute at Tulse Hill to collect a vasculum and plant press for the display and visited Maidstone Museum a number of times in order to prepare the display.
Many thanks to Alex Gurr, the curator, who mounted the text and set up the display, and the SLBI who loaned the press & vasculum.
| | | |
| --- | --- | --- |
| BSBI Field Identification Skills courses at Kent Wildlife Trust | | |
Wednesday, 10 May 2017 19:37
Kent Wildlife Trust, in partnership with the Botanical Society for Britain and Ireland (BSBI), is hosting three Field Identification Skills Certificate (FISC) test days at Tyland Barn on the 1st June, 20th July and 7th September 2017.
These FISC one-day tests will enable attendees to be awarded a FISC certificate stating their botanical identification skill level.
For more information, please call KWT on 01622 662012 or visit the website: www.kentwildlifetrust.org.uk/node/9365
| | | |
| --- | --- | --- |
| Field visit to Rose Hill Woods | | |
Monday, 01 May 2017 16:42
Eight members assembled on St George's day 2017 (23rd April) for a look around Rose Hill Woods, on the outskirts of Sittingbourne. This public site consists of playing fields, woodland, and also the ruins of Rose Hill House, an old Victorian house that once stood within the woods. The woodland has a nice patch of winter aconite Eranthis hyemalis and some sanicle Sanicula europaea, along with a large wych elm at the edge which impressed us with its vast crop of seeds.The edge of the cricket pitch proved to host an interesting mixed aggregation of mining bees, with at least 4 species observed.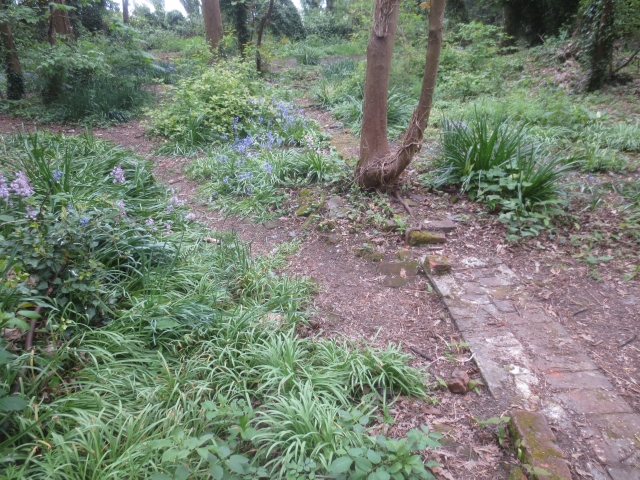 Text and photo courtesy of Sarah Arnold
| | | |
| --- | --- | --- |
| KFC Visit to Hungershall Rocks | | |
Friday, 21 April 2017 08:30
Kent Field Club's meeting at Hungershall Rocks on 11th March 2017 came 54 years after their previous visit to the site.
In company with the British Bryological Society they re-found the moss Tetrodontium brownianum on the same cave roof where they discovered it in 1963. The liverwort Scapania gracilis was also re-found on a boulder, which remains its only site in Kent. A great new discovery was the liverwort Marsupella emarginata var. emarginata. Large patches of this species were found on a rock face, the first record from Tunbridge Wells since 1840.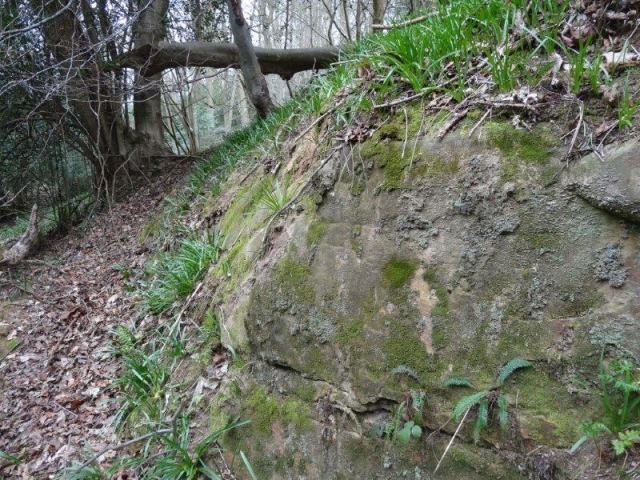 Text and photo courtesy of Stephen Lemon
| | | |
| --- | --- | --- |
| Kent Field Club display case at Maidstone Museum | | |
Friday, 20 January 2017 13:25
Years ago, the Club paid for a case to be installed at Maidstone Museum but subsequently forgot about it!
We now plan to put on small exhibitions in the case, which is located in the first floor natural history section, changing the contents a few times a year.
The first display is by Ian Tittley on seaweeds, the kent seaweed flora (and new atlas!) and their many uses.
This will run till the end of March 2017.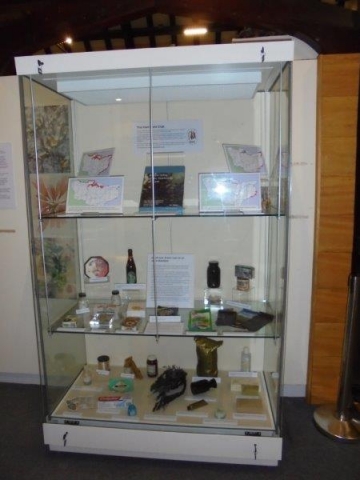 Watch this space for future news.
| | | |
| --- | --- | --- |
| The Swale Shore of Elmley NNR | | |
Monday, 19 September 2016 10:51
On the 27th August, several Club members met in glorious sunshine (and a bit of wind) just across the Kingsferry Bridge to explore the north coastline of the Swale on Sheppey. Marine expert Ian Tittley introduced us to the vascular plants, seaweeds, animals (and animals that look like seaweeds: Hornwrack!) to be found on the shore and coastal defences bordering Elmley Marshes.
The wind kept many insects out of reach but Great Green Bush Crickets and the rare Ruderal Bumblebee put in notable appearances.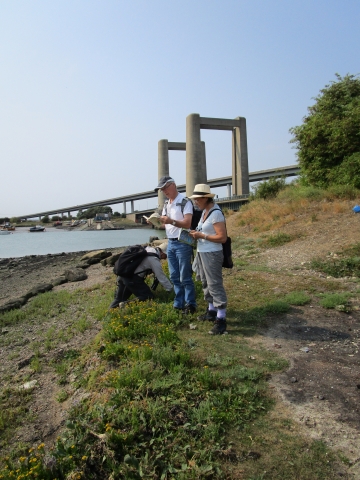 Text and photo courtesy of Simon Springate
| | | |
| --- | --- | --- |
| Fort Horsted Field Visit | | |
Monday, 19 September 2016 10:40
On the 14th August, fifteen Field Club members were fortunate enough to both have access to Fort Horsted, Medway and excellent weather. This structure, built in the 1880s, was owned by the MoD until the 1960s, then was neglected, being used for landfill at one point. It is now owned and managed by Avondale Environmental Services. The soil excavated from the main defensive ditch was deposited on banks above, which have developed into a chalk grassland over the last century. A wide variety of pollinators were present including butterflies, hoverflies and bees. Particularly interesting were the Large Scabious Mining Bee, Andrena hattorfiana, and Melitta tricincta, a specialist bee on Red Bartsia
.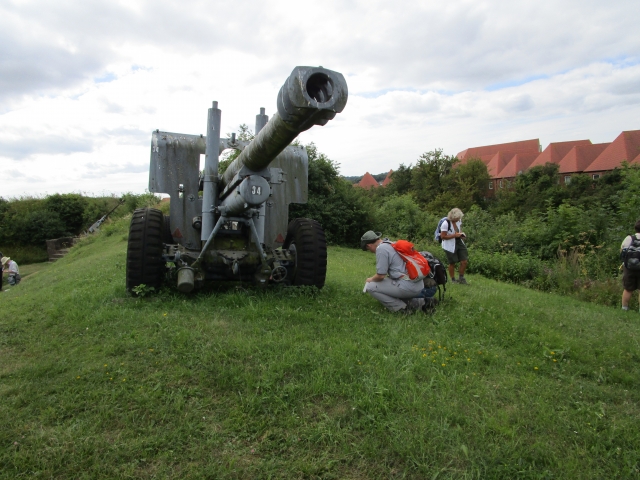 Text and photo courtesy of Simon Springate
| | | |
| --- | --- | --- |
| Field visit to Barnett's Wood, Southborough | | |
Monday, 22 August 2016 08:55
Field club members were led around Barnett's Wood, Southborough by Ian Beavis@TWBC_Museum Curator at Tunbridge Wells Museum & Art Gallery and expert entomologist. This 12 hectare reserve includes broad-leafed woodland, meadows and ponds and is managed by theKent High Weald Partnership (http://www.khwp.org.uk/). Here there is a bridge dedicated to the late Mary Page, local botanist and a long standing member of the Kent Field Club who led many field meetings in the Tunbridge Wells area.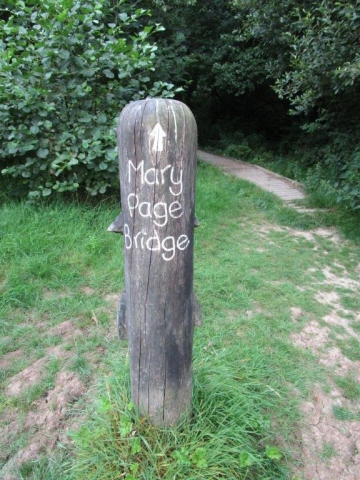 Text and photo courtesy of Simon Springate
| | | |
| --- | --- | --- |
| Field visit to Conningbrook lakes, Ashford | | |
Monday, 22 August 2016 08:49
Recently Club members visited Conningbrook lakes on the edge of Ashford. This area of former quarries and adjacent arable fields are now a 34 hectare country park and series of lakes designated for recreation, sports, fishing and conservation with attached land earmarked for housing. An interesting mix of grassland and wetland species was seen, with dragonflies, demoiselles and damselflies in abundance.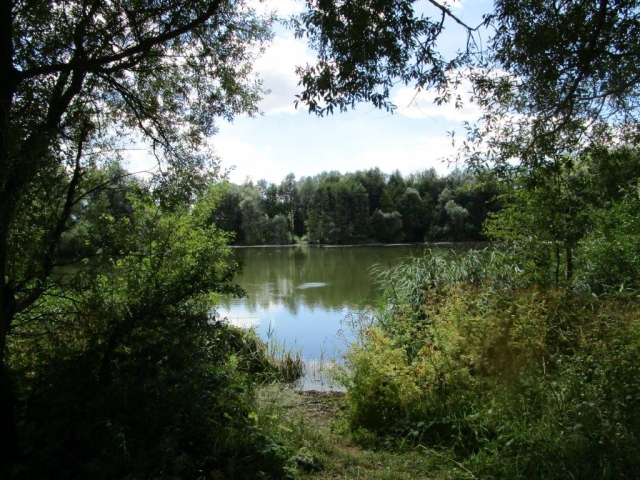 Text and photo courtesy of Simon Springate
| | | |
| --- | --- | --- |
| Field visit to Fort Burgoyne ear Dover | | |
Wednesday, 27 July 2016 10:31
On 16th July, Field Club members were fortunate enough to access Fort Burgoyne, near Dover Castle, on one of its few open days.
This Palmerston fort, built in the 1860s to defend the south coast, is being restored by the Land Trust (http://thelandtrust.org.uk/space/fort-burgoyne/).
Here we had a rare opportunity to spend time with mature smooth-leaved elm (Ulmus minor) trees, including an impressive specimen at least as old as the fort and most probably older.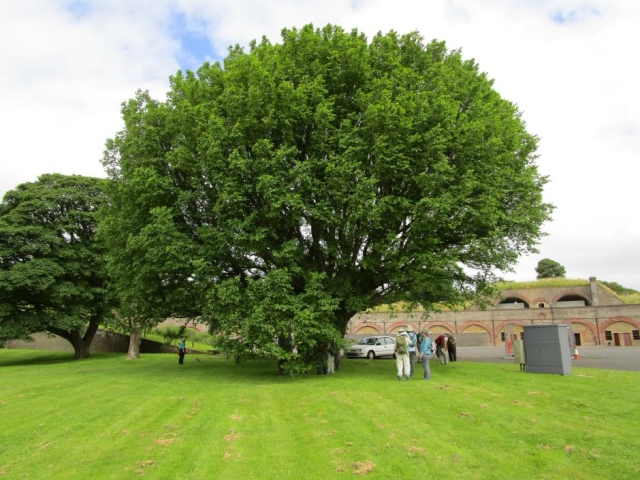 Photo and text courtesy of Simon Springate
| | | |
| --- | --- | --- |
| A New Atlas of the Seaweeds of Kent by Ian Tittley | | |
Friday, 29 April 2016 14:43
Available now in the Kent Field Club shop
Ian Tittley presents accounts and distribution maps for nearly 300 species of seaweeds from Kent's coastal waters and places the flora in its regional context.
| | | |
| --- | --- | --- |
| Call for 2015 records! | | |
Thursday, 07 January 2016 13:43
Dear members
Now that the 2015 field season has closed many of the county recorders will be gathering records for annual reports on their groups of interest for the next KFC Bulletin. So this is a gentle reminder for those who have not yet submitted your records to dig out last years notebook and send your records in.
If you are unsure of who to send the records to, please pass them on to the Kent & Medway Biological Records Centre who will be able to collate and pass the records on. E-mail This e-mail address is being protected from spambots. You need JavaScript enabled to view it
Happy New Year
| | | |
| --- | --- | --- |
| The Natural History of Sheppey; Volume 18 of the Kent Field Club Transactions has now been published | | |
Tuesday, 16 September 2014 08:33
'The Natural History of Sheppey', Volume 18 of the Kent Field Club Transactions (272pp) has now been published.
Price £12.00, p&p £2.00.
Send cheque payable to 'Kent Field Club' to Ms K. Friend, 2 West End Cottages, The Street, Doddington, Kent ME9 0BZ.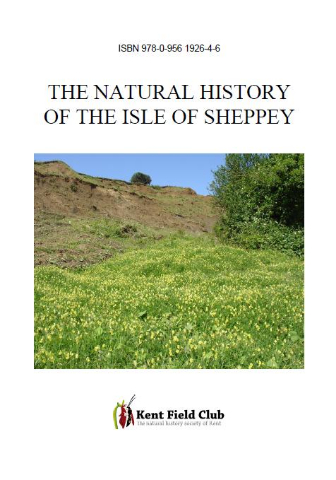 | | | |
| --- | --- | --- |
| Beewalk volunteers needed in Sittingbourne | | |
Thursday, 08 May 2014 08:27
The Bumblebee Conservation Trust are looking for volunteers to help out with monthly Beewalks at Milton Creek Country Park, Sittingbourne. This site has already produced records of Bombus humilis and Bombus muscorum, two of Kent's rarer bumblebees. If interested, please contact Richard Comont at BBCT This e-mail address is being protected from spambots. You need JavaScript enabled to view it
| | | |
| --- | --- | --- |
| Shieldbug & Allies Recording Project Started | | |
Tuesday, 11 June 2013 15:37
The Kent Field Club is pleased to announce that member Jonathan Barnard has decided to undertake a six year project to record and map the Shieldbugs (and allies) of Kent. You can find more information on this project and how to get involved here
| | | |
| --- | --- | --- |
| Obituary - Eric Philp | | |
Monday, 04 February 2013 18:31
ERIC GEORGE PHILP
1930 – 2013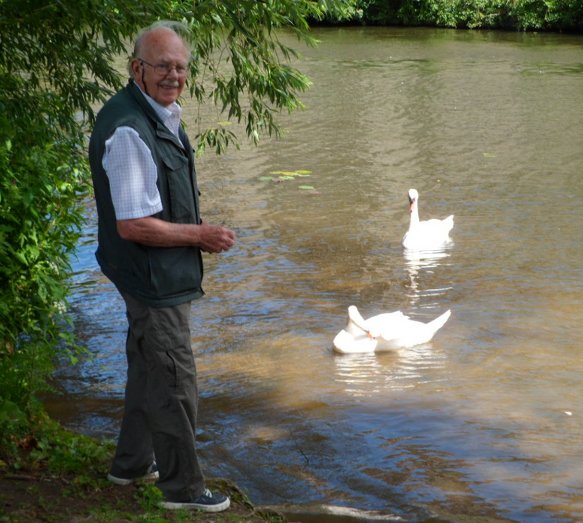 Eric Philp, Keeper of Natural History at Maidstone Museum, 1958-1993, former President and Honorary member of the Kent Field Club died on 8th January 2013 aged 82. He will be greatly missed by all. He was a major driving force behind founding the Kent Field Club (the Natural History Society of Kent) in 1955, in conjunction with Tony Tynan, former Keeper of Natural History at the Museum and Mr George Morgan.
Eric took on many executive roles in the Field Club as it flourished during its early years and membership expanded. He was Joint Secretary with George Morgan from 1957-1959, and with John Felton from 1960-1964. He took on the Editorship of the Bulletin from 1961- 1964, and was Assistant Editor of the KFC Transactions from 1967 to 1971 covering Vol. 3, Part 2 to Vol. 3, Part 4. A new post, Honorary Director of Field Studies was soon created with the aim of overseeing the Field Club's ever expanding programme of field surveys and field meetings. When our first director, Francis Rose, moved to Hampshire in 1970, Eric took over this position, a role he held until 1986. This fitted in nicely with his position as Keeper of Natural History at the Museum and allowed him to direct plant recording for the Field Club's Atlas of the Kent Flora published to great acclaim in 1982. Eric was elected President of the Kent Field Club in 1990.
Eric set up the Kent Biological Archives at Maidstone Museum, the first centralised database for storing the county's wildlife records in 1971. This was a hard copy system, comprising sets of individual species cards arranged by taxa group and a folder for each tetrad, where details of all the known records of plant and animal species from sites within the tetrad were stored, together with relevant correspondence. The known distribution of each species in the county was summarised in tetrad map form (for the first time) on the front of each species card, with a brief listing of locality, date and recorder's name for all the individual records below. This was a massive undertaking in the days before computerised databases. Eric was pleased to note that when the Nature Conservancy Council began transferring county data onto its national database in the 1980s, the usual 1-2 day visit to a county records centre extended to a month in the case of Kent. His pioneering work and the efforts of the county's recorders were well justified.
Eric's encyclopaedic knowledge about the status and distribution of the county's flora and fauna was second to none, and meant that he was continually in demand as a public speaker. For many decades he spoke enthusiastically and authoritatively at Kent Field Club events and to audiences across the county about Kent's wildlife and its conservation. His publications include the Atlas of the Kent Flora (1982), The Butterflies of Kent (1993), the Provisional Atlas of the Amphibians and Reptiles of Kent (1998), the Provisional Kent Mammal Atlas (2002) and A New Atlas of the Kent Flora (2010).
At various times during his career Eric was county recorder for vascular plants (BSBI recorder for VCs 15 and 16), plant galls, Orthoptera, Heteroptera, Coleoptera, Siphonaptera, Arachnida, Myriapoda, Mollusca and Vertebrata excluding birds, and well-versed in the taxonomy and recording of other groups.
Eric was also heavily involved in setting up the Kent Trust for Nature Conservation (now Kent Wildlife Trust), hosting meetings of interested parties at the Museum and for a time was Chairman of the Trust's Conservation Committee.
For many of us, Eric has always been with us, he was the 'Kent Field Club', and we shall greatly miss his presence in the field and at indoor meetings. He was an extraordinary field recorder, often finding rare or overlooked species right under our noses when on a field meeting, entertaining us with details of the species history, and enthusing us to look the species for ourselves. He was a pioneering conservationist, an inspirational teacher and fantastic flag-waver for the Kent Field Club. Our condolences go to his wife Dorothy and son Stephen and family.
John Badmin
| | | |
| --- | --- | --- |
| The New Atlas of the Kent Flora has SOLD OUT! | | |
Monday, 09 July 2012 08:37
Our first print run of the New Atlas of the Kent Flora has now sold out. It is likely that we will print another batch, so register your interest with us and we will add you to the list.
| | | |
| --- | --- | --- |
| NEW: Purchase our Publications and Join Online! | | |
Monday, 27 December 2010 16:41
You can now become a Kent Field Club member instantly and securly online using your debit or credit card. Just go to our Membership page to find out more and to join now!
Kent Field Club publish a series of atlases of the distribution of particular groups of plants and animals in Kent, which are also now available to purchase on our website in our online Publications shop.
We also have a number of free publications available to download.